Back To Our Services
There is a reason why each door type consists of a certain number of components. Each of them serves a different purpose so that the door will open, close and remain open. When one of them fails to play its role right, there are operational problems. Some of them are more serious than others, but they must all be addressed as soon as possible. The process of taking care of such problems is what we call garage door repair services. It might include fixing a dented panel, aligning a track, balancing the door, changing the opener settings, reprogramming the remote or replacing broken springs. They are all important actions because problematic parts will create operational issues and might also jeopardize one's safety or security. For such reasons, our company offers same-day garage door repair services, in order to make sure everything is taken care of as soon as possible.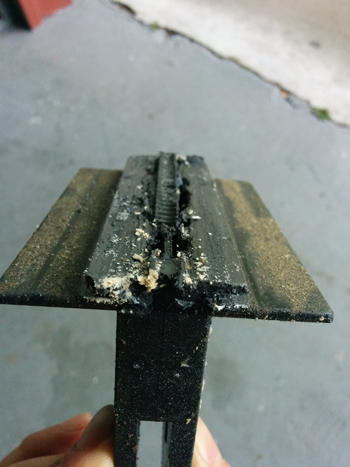 Cable repair
Cables are actually parts of the spring system. They help springs to lift and lower the door. Springs pull on cables to balance the door and cables hold the door's weight and pull it to open. The most common problem related to these parts is when the cable comes off the drum.
You will know if your cable is off the drum because part of it will be tangled and the door won't open right or at all. Cable repair is a high risk task because these parts are connected to the tensed springs. It's best to leave it to our professional team and stay safe.
Broken spring replacement
Under normal conditions, overhead door springs last less than any other part. They are designed to work for a very specific period of time and last as long with good maintenance, which involves their adjustment and lubrication. Once they age, they break. Sometimes, they might break prematurely and that happens when they are eroded, damaged, chipped or of poor quality materials.
Broken springs are useless. Since springs are meant to move the door and also keep it open, the door won't move or stay open without the support of springs. Broken springs must be replaced as soon as possible and new ones of the right size for the specific door must be installed. If you need broken spring replacement service, let us know. This is a dangerous task as the springs accumulate a lot of tension in order to keep the door in place. This should be done by a professional in order to ensure your safety.
Local repair services in Lake Park
All repair services are important because even the small ones can get worse over time and affect the rest of the system. If the door doesn't come down or you don't know the reason for the door not opening, let us find out for you. Our professionals at Garage Door Repair Lake Park offer quick troubleshooting and can fix any issue related to the parts, door, panel or opener. In case the dented track or damaged panel cannot be repaired, they will be removed and new ones will be installed. The goal of our team is to fix any problem which makes your door dysfunctional and dangerous, and that's why our services are provided as soon as possible and cover all your repair and replacement needs.
Give us a call if you need repairs today!
Back To Our Services